Are You Ready To Go Quantum?
If you're a Wellness Professional committed to working more deeply, powerfully and sustainably with your clients,
I've created several pathways to Coaching Excellence with you in mind.
It's Time to Take your Practice & Your Life to the Next Level!
It's Time to Go Quantum!
~Marilena

Quantum Coaching Essentials is approved training for The International Coach Federation (ICF)
& The UK Health Coach Association.

We have met all requirements for approval by the National Board of Health & Wellness Coaching (NBHWC)
and will shift from Pending status once our current class graduates in June.
All graduates from June 2021 forward are eligible to sit for the HWCCE Exam.


NBHWC
Exam Prep
The Only Total Review
Experience Designed to
Lead You to Success!

Quantum
Learning Hub
Micro-Online
Learning for the
Empowered Coach

NBC-HWC
CEU'S
You Need 'Em?
We Got 'Em!
Learn-Grow-Recertify!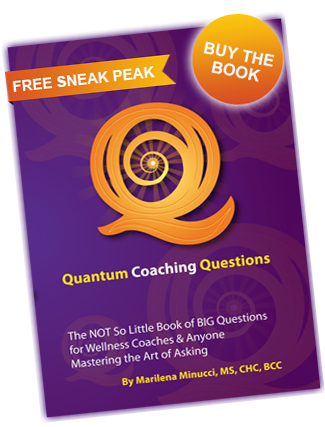 Get the Book that will
Change the Way You Coach... Forever

Fill Your Coaching Tool Kit with Quantum Coaching Questions
& watch your practice soar!
Here is a must-have guide with over 300+ powerful questions that will help you
dive in deeper with your client in all phases of the coaching relationship.
Awareness is the first step to creating meaningful change.
Ask the best questions... ask Quantum Questions.